High Knife How-To
The High Knife is the first multi-function pocket knife featuring a fold-out pipe, this revolutionary smoking tool combines elegant form and utility.
The party is underway, the High Knife is available online now!
Just in case you lose the sleeve with the handy dandy equipment list, or you've been living under a rock and never used a pocket knife before, we've put that image here for your viewing pleasure.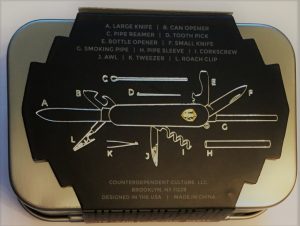 For Distributors and Wholesalers
If you have a brick and mortar or on-line business, please create an account and then use the
Contact Us form
so we can call you to complete the process.
Yes, we have bulk pricing for distributors and wholesalers.
Contact Us
for price breaks and delivery information.
The minimum quantity order for the High Knife wholesalers is 16 knives, they come packaged in a P.O.P. countertop display box.
Please contact us
to set up your distributor account. In order to set up a distributor account, please have your EIN number and business information handy.