We Have Lift Off!
July 19, 2016
0 Comment(s)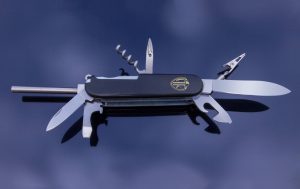 Introducing The High Knife, the first utility knife for Cannabis users that combines elegance and function.
The High Knife was born of a mother named necessity. One night I found that the joint I'd been smoking had burned down to a nub. Since the last time I'd even seen a roach clip was 1982, I picked up my pocket knife and used the scissors as a roach clip. In that hazy moment of bakedness I thought it'd be cool to have a "stoner army knife" with a built-in pipe, roach clip, and everything else you would need to keep the party going.
Then naturally I had some Ring Dings, fell asleep and forgot about it for 13 years.  Fast forward to 2016 and almost half of the United States allows some form of legalized marijuana, with more being added this November.  Marijuana is being branded, repackaged, destigmatized and the ghost of Harry Anslinger is being exorcised at last.
Style has never been associated with Marijuana. It's always been an underground vice, using surreptitious paraphernalia for smoking on the sly. The High Knife is at the forefront of a modern breed of upscale Cannabis implements. The first pocket knife with built-in pipe and roach clip integrated with a knife, bottle/can openers, corkscrew, pipe cleaner, toothpick and tweezers. It comes packaged in an embossed metal stashbox. Avoiding the stereotypical hippie tie-dye associations, the overall aesthetic draws on the elegance of the birthplace of the High Knife, Manhattan. The HK logo, packaging and website design are all steeped in the Art Deco style. Appealing to both men and women, High Knife is sleek, strong and timeless. When prohibition ended in 1933, America saw the advent of high end design in all manners of cocktail shakers, glasses, swizzle sticks and bar tools. The 21st century will similarly see the end of cannabis prohibition and the creation of equally polished smoking accessories.
I hope it's the knife of your party!